CD's |
Zips
|
Software Sampler Sounds
|
Compact Flash Cards
Check out Awesome Kits For MPC 1000 Here
AKAI MPC 1000
A laptop- Computer size MPC!
Soundcrafting.com sells hip hop sounds and hip samples that supports the MPC1000 drum machine/sampler/sequencer. We offer quality hip hop drum sounds/Hip Hop samples to load directly into the MPC 1000 sampler. We sell blazin' hot MPC 1000 sounds. We offer quality drum samples and drum one shot drum sounds/ samples. You can load our MPC flash card into your MPC 1000 or our .WAV formatted CD-Roms. We sell very professional warm hip hop drum loops and hip hop sounds and hip hop samples for your hip hop production needs. Buy our drum sounds through our Instant Download of drum sounds. The MPC 1000 is a work horse for any hip hop producer trying to make quality hip hop production with quality hip hop sounds for MPC 1000.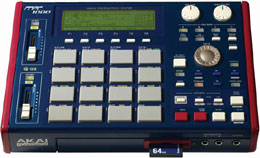 The akai MPC 100 is similair to the other great MPC's of the past. One major difference is that is smaller and can be carried around with ease. It is a computer based system similiar to the MPC 4000. The Mpc 1000 has the swing mode of the old MPC 60 II made by Akai in the early 90's. It has features like Note repeat and comes with a compact flash card reader for storage of your data. The mpc also has USB connectivity so you can hook it up to your PC. Two seperate multi effects also come standard with the unit plus the unit has a master output effects processor.
Compact Flash Storage Device
Reads standard wav files plus has built Midi Sequencer
Pad Programming / Sample Editing / processing software